Treating Cold Sores: Why Choose Abreva?
Treating cold sores
Unfortunately, there is no cure for cold sores. While they usually clear up after a week or two, you can shorten the healing time by using an effective treatment like Abreva® Cream. Abreva® cold sore treatment penetrates deep and starts to work immediately * to block the virus and protect healthy skin cells. You can heal your cold sore in as little as 2½ days ** when you start using Abreva® Cream at the first sign of an outbreak.
Manage your cold sore triggers and fight back when you have an outbreak:
Why Is Abreva® Cold Sore Cream Different?
Abreva® Cream is a non-prescription cold sore cream with FDA approved results. Clinical results show that using Abreva® Cream at the first sign of a cold sore outbreak shortens healing time and symptom duration. It helps protect healthy skin cells from the cold sore virus and starts working immediately on contact.*
Does Abreva® Cream Really Work?
Abreva® Cream contains 10 percent docosanol, which blocks the herpes simplex virus from entering healthy skin cells, inhibiting its growth based on laboratory studies i. Abreva cold sore cream has been clinically proven to reduce healing time, as well as symptoms such as pain and burning, itching or tingling. It has also been shown to help prevent cold sores from progressing to blister stage when applied at the first sign of an outbreak.ii
Is Abreva® Available Over the Counter?
Yes, Abreva® Cream is available over the counter. You do not need a doctor's prescription to purchase Abreva® OTC.
Does Abreva® Work After the Blister Appears?
Abreva® Cream should be used at the first sign of a cold sore for the best results. Using it after blisters appear will affect its efficacy.
How Soon Will I See Results?
If you apply Abreva® Cream as soon as you notice any signs or symptoms of a cold sore – a red area or a tingling, burning and/or itching sensation – you may be able to prevent the cold sore from developing into a blister. Abreva® Cream helps reduce recovery time too, while shortening the duration of symptoms.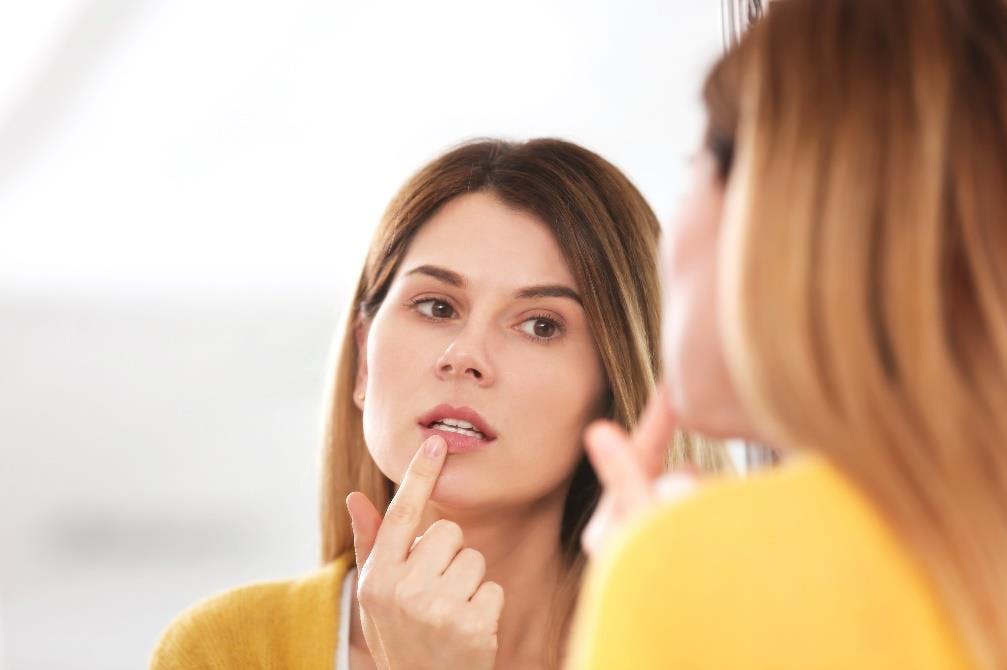 Can You Use Abreva® for Chapped Lips and Sun Blisters?
Chapped lips or sun blisters are not caused by the cold sore virus, so Abreva® should not be used to heal lips in this situation. If you suffer with cold sores because of exposure to the sun, you can use Abreva® Cream to speed healing and prevent the virus from spreading to healthy skin cells.
Where Can I Buy Abreva® Products?
You can buy Abreva® Cream at stores around the country, including pharmacies like CVS and supermarkets, as well as online retailers.
Get your money-saving coupon here.
Does the Abreva Pump Work the Same As the Tube?
Both the Abreva® pump and tube contain the same ingredients and formula but the pump, with its lid and pump action, makes it easier to use on the move. The tube is ideal for home use.
Is Lysine or Abreva® Cream Better for Healing Cold Sores?
There is no conclusive evidence that taking lysine helps heal cold sores, although there is some evidence that suggests it may hinder further outbreaks. Abreva® Cream, however, has been clinically proven to help you recover from a cold sore outbreak sooner, reducing healing time and symptoms too.*
Learn more about using Abreva® Cream to keep cold sores at bay, and look after your lips with our lip care tips.
Read our reviews to discover what customers think of Abreva Cream or contact us for more information.
*When used at the first sign.
Compare Abreva® Cream to other cold sore treatments
| | | | | | | | | |
| --- | --- | --- | --- | --- | --- | --- | --- | --- |
| | Abreva® Cream | Carmex® Cold Sore Treatment | Blistex® Lip Ointment | Orajel™ Single Dose | OraLabs® Cold Sore Treatment | Campho-Phenique® | Herpecin L® | Store Brand |
| FDA approved to shorten healing time when used at the first sign of a cold sore*** | | | | | | | | |
| FDA approved to shorten symptom duration | | | | | | | | |
| Helps protect healthy cells from the virus | | | | | | | | |
| Starts to work immediately* | | | | | | | | |
| Contains 10% docosanol | | | | | | | | |
| Provides temporary symptom relief | | | | | | | | |
| Contains camphor, menthol, and/or phenol | | | | | | | | |
| Contains dimethicone | | | | | | | | |
| Contains benzocaine and/or benzalkonium chloride | | | | | | | | |
Although some of these products may help with temporary symptom relief, they are not clinically proven to heal cold sores like Abreva® Cream is. Nothing heals faster.**
*Based on laboratory studies.
**Among FDA-approved cold sore products.
***Median healing time 4.1 days. 25% of users healed in 2.5 days.